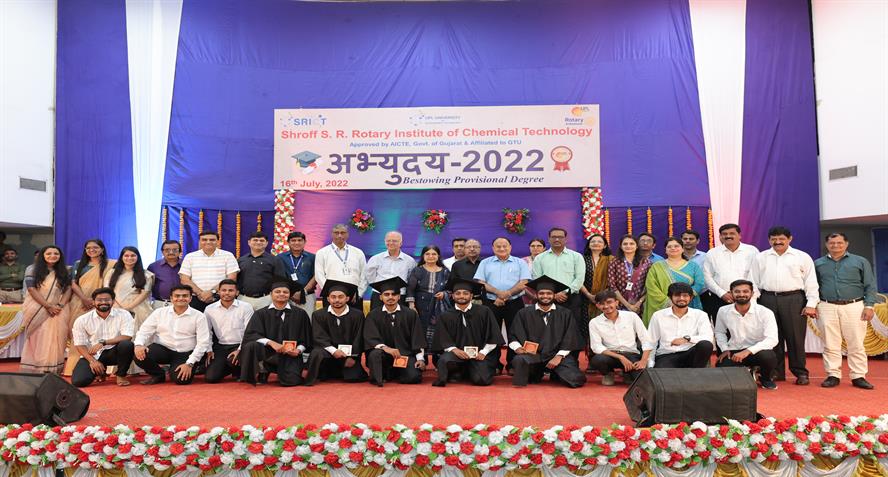 " अभ्युदय-2022 "
SRICT has always believe in commending students for their hard work and sincere efforts in their academics to inspire them to scale higher merits as they gradually excel in their engineering journey.
Academic award ceremony of Batch 2018-2022 "ABHYUDAY-2022" was celebrated today to honour the shining stars of semester VIII for their splendid performance at GTU summer 2022 examination. 16th July has always been a memorable day for all of us and today as we stepped in 2022, it marks 11 years of an outstanding academic journey for SRICT and 01 year of UPL University of Sustainable Technology. Dignitaries including
Ms. Naitikaben Patel, Sub Divisional Magistrate, Bharuch district, Chancellor UPL University Sandra Shroff, President Ashok Panjwani, Treasurer, ARES Mr. Kishor Surti, Provost(I/c) Shrikant Wagh, Treasurer Kishor Surti, B D Dalwadi, President of Rotary Club Arpan Surti, Meera Panjwani, Parents ,invitee from industries and Rotary club, Deans, HODs and faculties and supporting staff witnessed the acceptance of Provisional Degree certificate along with cash prizes and certificate of excellence by the students.
Total cash prize worth of Rs. 3 lacs were rewarded to 145 students and 05 students were awarded with Gold medals.The Program was coordinated by Mr Samir Jariwala and his team and received high applaud by the audience.