Safety Training Program for School Students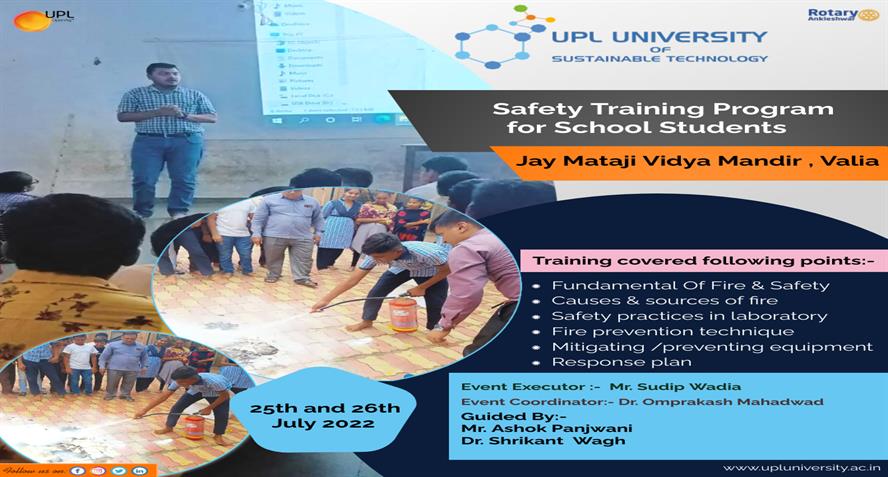 The Centre of Excellence (COE) in industrial safety established at Shroff S. R. Rotary Institute of Chemical Technology (SRICT) Ankleshwar, by the congruous collaboration of UPL Ltd. and Gexon, Norway organized Work Place and Life Safety training Program for the school students of Jay Mataji Vidhya Mandir, Valia.
Like it is said, "the cost of injury prevention is far less than the cost of an injury". A safe and healthy work environment pays, in more ways than one. This Safety training program was held on July 25th and 26th, 2022 at Jay Mataji Vidhya Mandir School located near Valiya, for the students of higher classes and the school's staff. This basic awareness program included the fundamentals of fire & safety and the causes & sources of fires. They were also explained about the safety practices in the Laboratory and assembly buildings, about the fire prevention techniques & mitigating/preventing equipment. So the personal protective equipment's for self-safety, emergency preparedness and response plan (what action to take in case fire occurs in a building) was also described. Teaching Methodology was students' friendly like the conducting the demonstrations, animations, case studies, competitions & discussions. MCQ test was conducted at the end of the course.
This training program was conducted by the faculties of SRICT, under the expert guidance of its President, Mr. Ashok Panjwani Sir and the Provost, Prof. Srikant Wagh Sir, coordinated by Dr. OmPrakash Sir and executed by Prof. Sudeep Vadiya from Chemical Engineering department.